Cyclists and rail enthusiasts will be aware that apart from Mickleover and Egginton Stations, both now in private hands, little remains of the other vital historical edifices which once stood at Etwall and Breadsall.
We ride past Mickleover Station regularly, but Egginton Station is tantilisingly just out of reach, being past NCN Route 549 where it emerges onto the A 5132 road at Egginton Junction Bridge.
This is what it looked like in 1957, the view looking NE towards the A 5132 bridge and the tall chimney of the (then) Stilton Cheese Factory. Both bridge, factory and chimney still stand today, although we are not used to seeing them from this side.
The purpose of this little reminder is a pre-cursor to a talk to be given to the Egginton History Society on Wednesday 11th November by Ian Gibson who was once Area Manager and Station Master at Egginton.
7.30pm at the Egginton Memorial Hall. Admission £3 includes refreshments.
Please add your name in "Comments" here if you are planning to go along.
Oct 19th
I have been in touch with the Chairman of Egginton History Society and he says that we can buy tickets at the door, but he would like to know how many will be in our party, so please let me know if need to be added to this list. Or deleted from it.
Peter Ford (Yes)
Martin and Joy (Yes both)
Mavis and John (Mavis only)
Stefan and Maria (Yes both)
Nick (Yes)
Alan (No)
Phil and Sue? (No away)
Les (Yes)
Total 8
They usually get about 35 people at their meetings but will cater for 70 at this event.
The venue, Egginton Memorial Hall, is next to the school on Main Street which is the main street through the village. The post code is DE65 6HL.
School on the right here and Memorial Hall on the left.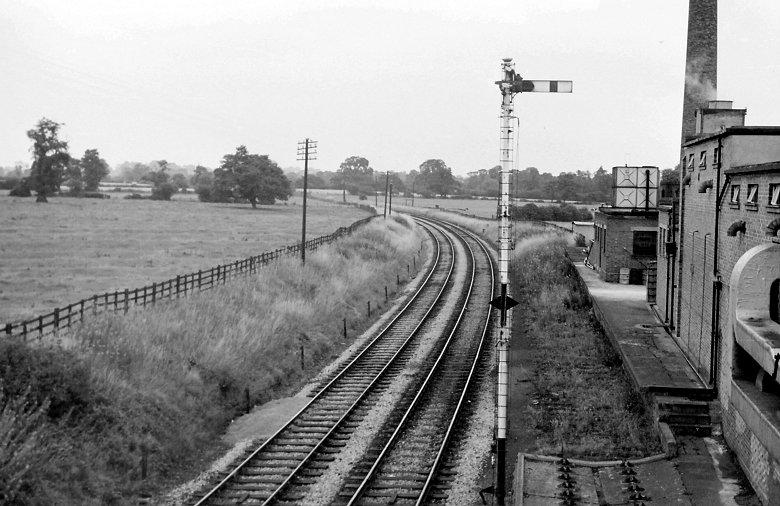 Another view from the past. This is looking towards Etwall from the A5132 Egginton Junction Bridge with the (then) dairy/cheese factory on the right and the two rail tracks in situ. How different it looks now.